This is the TestoFuel muscle building workout archive. We have been working with top fitness and strength-training professionals to deliver you some of the best workouts to incorporate into your routine.
This is our way of saying thanks for being a devoted customer to the TestoFuel brand, and for supporting us, like we support your gains.
What you'll be getting…
For the time being, these workouts are 100% exclusive, anyone who visits the TestoFuel site won't be able to see them – this is just for you.
Whether you're a causal lifter, or training up to compete, there'll be something here that you can use to seriously up your training game. Not to mention the testosterone boost, you're going to get from all this heavy lifting.
This is what we have in store:
TestoFuel: Weight Training 101 – A 4-week intensive program of muscle-building exercises
TestoFuel: Beginner Workout Plan – A great starter plan for anyone new to lifting weights
TestoFuel: Intermediate Workout Plan – A more challenging workouts for those with more gym experience
If you're planning a lean bulk, these are the programs you need to read.
Here they are in more detail:
---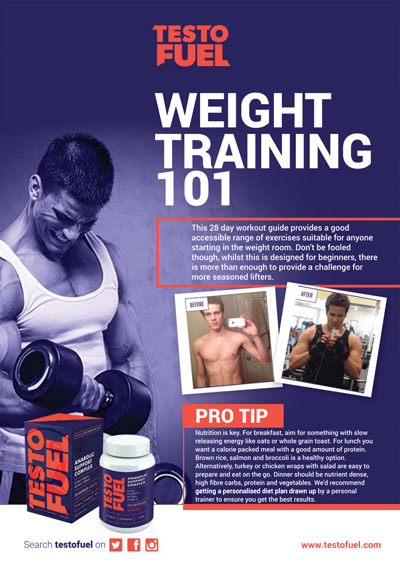 Weight Training 101
Only for the truly dedicated, this 4 week program will take everything you have and more. Aimed at those who want to see faster results with their physique, this workout is just what you need to take your training to the next level. That is, if you can handle it
---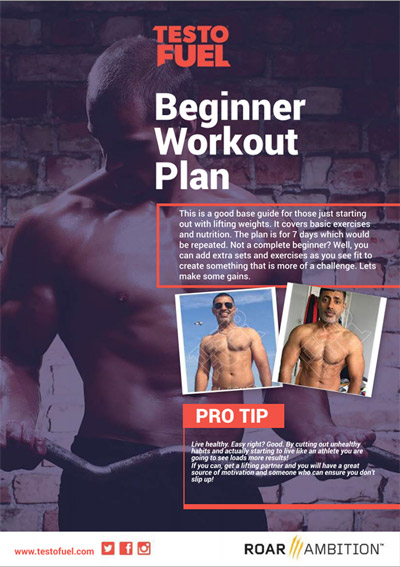 Beginner Workout Plan
An introductory plan for those who are getting serious about putting on muscle. This plan offers great steps for beginners who are looking to make gains without over-training. If you're looking for your first real taste of the lifting lifestyle this is as real as it gets.
---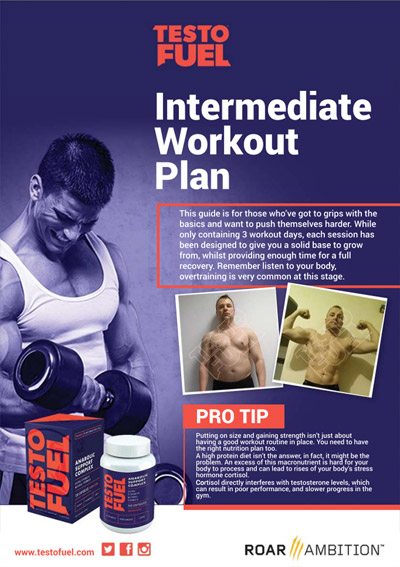 Intermediate Workout Plan
This is for the more experienced lifters. If you've been training for over a year and looking for something new, or to bust through a plateau, this is the workout you've been looking for. With rest day advice, nutrition tips and general workout suggestions its a great resource for gains.
Commonly Asked Questions
How long should I run the Beginner/Intermediate Plans for?
Although these workouts may only have a 7 day split, but that doesn't mean you should stop after a week.
These plans are a good outline of what your routine should be looking like. Try it straight for a week or two, and if you see ways to either improve or make the workout more accessible to yourself, do so. The most important thing is that you're always challenging yourself.
Start with the main structure of the workout and see how you feel from there – you surprise yourself.
What kind of equipment do I need for these workouts?
If you have a gym, you'll be fine.
As these are muscle-building workouts, there's a heavy reliance on free-weights like dumbbells and barbells. There's also some machine work in there too.
For the best results when performing these workouts, and to ensure you can get the most benefit out of them, we recommend training in a fully furbished gym.
How can I get the best results out of these workouts?
Good form, and hard work.
It's easy to pick out the heaviest weight from the rack and knock out forced rep after forced rep, but if you're not fully engaging the muscle and recruiting all the muscle fibers that you would with good form, you're only cheating yourself.
Leave your ego at the door, and concentrate on making gains.
Do you have any cutting routines?
No. But we know who does.
Instant Knockout is a natural fat burner that is also made by Roar Ambition. Made up of all natural ingredients, and endorsed by MMA fighters, it is one of the best options on the market for anyone looking to get shredded in record time.
They recently put together some fat burning workout guides for those who want to cut down, but still maintain that hardened muscle mass.
And guess what? You've got full access to their workout guides too.
To see what they have on offer, click the box below to be taken to their archive: