Nothing completes a physique better than thick and sculpted muscular legs. The teardrop quads, grainy defined hamstrings and a firm set of glutes.  They're the biggest muscles in your body, and by extension, your biggest source of testosterone.
And this article will teach you how to take full advantage of them.
The Hormonal Benefits of Leg and Glute Exercises
Your legs and glutes are the strongest and largest muscle groups in your entire body. When you fully contract the leg and glute muscles, there is a huge 'surge' of testosterone into the bloodstream. This helps with whole body muscle growth, repair and development.
For example, if you're doing a full body routine, perform leg exercises first. This will increase the amount of free flowing testosterone within the body and giving the rest of your body more available Testosterone to boost performance.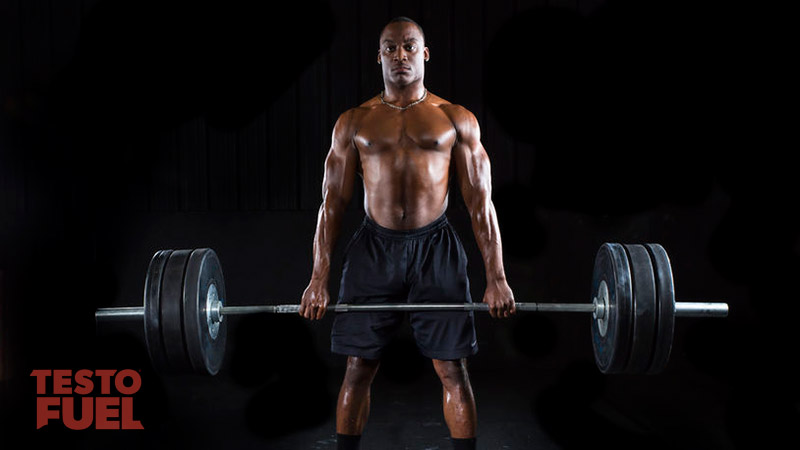 Isolation exercises like leg curls and extensions don't cut it if you want the most T. Replace them with some real impact exercises such squats, lunges, swings, glute bridges and deadlifts.
These compound exercises are a lot better when it comes to flooding your body with muscle building hormones, as they recruit a higher number of muscle fibers. Interestingly research has shown that:
Exercises like jump squats double your testosterone levels when compared to using the bench press [1]
When you heavy squat, you release 10 times more human growth hormone – this is a powerful muscle builder and fat burning hormone.
The Best Leg and Glute Workout
The workout below is one of the best out there for building up your lower body strength and testosterone levels – don't forget to concentrate on good 'form' before lifting heavy.
You can find the exercise descriptions below to use as coaching points for the whole work out. It works great for for leg days or a split routine with another muscle group e.g. back, shoulder, arms etc. The choice is yours, enjoy the burn, go heavy and when lifting the weights be very explosive!
| | | | | |
| --- | --- | --- | --- | --- |
| Exercise | Weight | Sets | Reps | Rest |
| Barbell Squats | 75> 1RM | 2-4 | 4-6 | 60 seconds |
| Dumbbell Deadlifts | 75> 1RM | 2-4 | 4-6 | 60 seconds |
| Squat Jumps | Bodyweight | 3-5 | 30 seconds | 15 seconds |
| Kettlebell Swings | 50-60 1RM | 3-5 | Go to Exhaustion | 60 seconds |
| Plyometric Lunges | Bodyweight | 3-5 | 30 seconds | 15 seconds |
| Bulgarian Split Squats | Bodyweight | 2-4 | 20 seconds on each leg | 30 seconds |
---
Barbell Squats
Place your hands on the barbell, a little wider than shoulder width apart
Step under the barbell and place it behind your head, high up on your shoulders
Keep shoulders pulled back and elbows pointing down
Contract your abdominal and back muscles
Start to slowly descend to where your thighs are parallel to the floor
Your knees will move slightly forward yet remain in line over your feet
Slowly return to the starting position
Do not lock out your knees when you straighten
Keep a constant tension on your thighs throughout the entire sets
Inhale as you descend into the parallel squat
Exhale on the return up.
---
Dumbbell Deadlifts
Feet shoulder width apart, toes pointing out, hold dumbbells at side of body.
Go down to squat position with deep hips
Keep shoulder blades pinched, core tight and chest up
Keep heels under hips, push through heels on upwards motion & thrust through the hips
Keep shoulder blades pinched at all times.
---
Squat Jumps
Stand with your feet shoulder width apart
Place hands at temples with elbows out to the side with your weight in the heels
Push out your bottom as you lower your hips to 90 degrees from the floor
Keep your knees above the ankles
Power up through your quads and jump landing on your heels
Keep your back straight and your core tight
Exhale on the jump up, inhaling on the landing.
---
Kettlebell Swings
Kick hips backwards to back of body to stretch hamstrings and engage glutes
Grab KB out in front of feet with both hands
The KB swing is a bending movement and not a squat
Keep your chest up, hips just above knees & core tight
Swing the KB with straight arms between your legs
Your hip momentum should move the KB and not your arms.
---
Plyometric Lunges
Start with hands on hips, chest up, shoulder back and  hip rotated under to producea 90 degree angle at the knees
Front foot is planted flat on floor, back foot is never flat and is in contact with balls of feet
When switching legs, keep your shoulders/pelvis stable and movement comes through the hips
Your knees should never go over your toe line.
---
Bulgarian Split Squats
Place one leg onto box with the opposite leg in contact with the floor
Balance bodyweight over the opposite leg
Squat downwards on your weight bearing leg until your upper quad is  parallel to ground
Keep your core tight and engaged throughout whole motion of squat
Drive body weight up through heels and repeat with opposite leg after 1 repetition.
---
Leg and Glutes Exercises Conclusion
Not training your legs and glutes will have a negative effect on your progress by limiting your overall amount of testosterone. Training them hard will is the key to faster results, bigger size and greater strength.
Using the above work out you will boost your testosterone levels, by recruiting a large number muscle fibers. This increases your muscle building potential throughout your whole body. Remember to be explosive in your training, and maintain solid form.
Boost your Testosterone Levels Even Further
Heavy compound movements aren't the only thing you can do to boost your T-levels, diet is important too – and TestoFuel is a good place to start.
As an anabolic support complex, TestoFuel is packed full of all the top-performing natural nutrients that support testosterone production and optimizes your hormonal levels.
If you want to take your training one step further, this is exactly what you need.
---
References
[1] Volek JS, Kraemer WJ, Bush JA, Incledon T, Boetes M (1997) Testosterone and cortisol in relationship to dietary nutrients and resistance exercise. J Appl Physiol (1985) 82: 49–54