Congratulations! Your fitness life just got easier.
Welcome to TestoFuel.com, your ultimate resource for all things muscle-building and fitness related all on one website.
Why you've been referred…
Your friend has been kind enough to send you to this website for one simple reason: to make gains.
TestoFuel is more than just a supplement company, it's a resource for becoming a better you.
On this website you can find a range of guides made by fitness professionals that will help you:
Build Strength and rock-hard Muscle
Increase Testosterone Levels
Improve Your Diet
Change the Way You Train
Make the Most out of every Workout
If you're just starting off in the gym, and serious about packing on muscle, this is what you've been looking for.
---
What is TestoFuel?
TestoFuel is a market leading anabolic support complex that boosts testosterone levels by using all natural ingredients. It is the answer for anyone who finds every pound of muscle a fight to put on and maintain.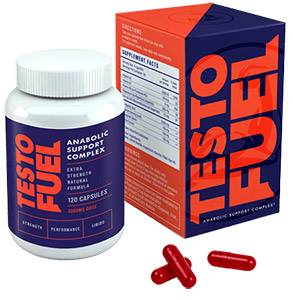 By giving your body a constant supply of the correct nutrients, TestoFuel supports your hormones to:
Maximize your testosterone levels – Increase overall T-count
Increase Muscle Size and Strength – Look better and lift more
Improve Energy Levels and Mood – Feel more motivated and confident
Enhance Libido – Give your sex drive that added boost
Speed Up Recovery – Less soreness and more progress
If you're looking for faster results, denser muscle mass, and everything you need to take your training to the next level, TestoFuel is your ticket to get there.
– Learn More About TestoFuel – 
---
What your friend has sent you: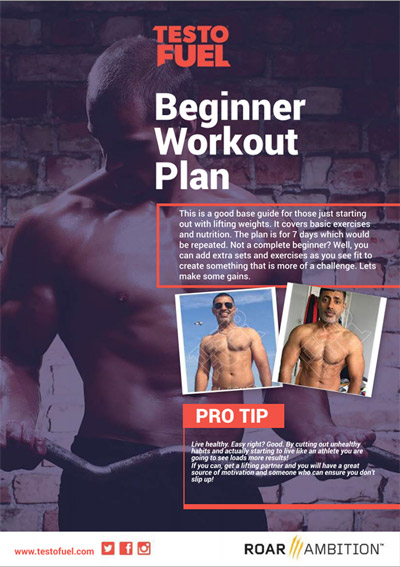 Beginner Workout Plan
An introductory plan for those who are getting serious about putting on muscle. This plan offers great steps for beginners who are looking to make gains without over-training. If you're looking for your first real taste of the lifting lifestyle this is as real as it gets.
---
What else is there for me on TestoFuel.com?
TestoFuel isn't just a supplement, it's a resource. It's an ever growing bank of accessible, understandable information that gives you everything you need for gaining muscle and living a healthier life.
This is place where you'll find:
Nutrition Tips – What to eat, and what to avoid
Workouts – Training Plans and how to get the most out of a workout
Testosterone Boosting Methods – How to make your hormones work for yo
Success Stories – Motivate yourself, see what's possible
Video Guides – Watch keen insights from fitness professionals
And we offer all this completely free.
Browse our site, find what you're looking for, and make some gains. We're all in this together.
– Take Advantage. Visit the TestoFuel Blog –
---
Looking to get Shredded?
Just finished a bulk? Want to get down to that perfect state of lean that has you looking ripped and ready?
Who doesn't?
Instant Knockout is another supplement produced by Roar Ambition with one goal: to destroy body fat.
Endorsed by professional MMA fighters, Instant Knockout is the fist-shaped supplement you need to get fighting fit.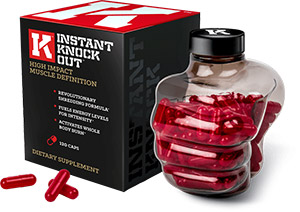 With a combination of the best natural fat burning nutrients, Instant Knockout contains a range of thermogenics, energy boosters and appetite suppressants that promote:
Rippling, lean abs – Own that ripped six-pack
More definition and development – Get sculpted shoulders and more defined arms
Training for longer – Push harder for longer
Staying on your diet – Control your diet and resist temptation
Constantly burning calories – Ensure you have that ideal calorie deficit
You can find out more over on our sister site: http://www.instantknockout.com/
– Learn More About Instant Knockout –
---
How about some free TestoFuel?
You've got your workout plan, you've seen what else we can help you with so what next?
How about winning some free TestoFuel?
It's time to get the most out of your workout, and if you're lucky, you won't even have to pay for it.
Refer a friend to this page by clicking the button below and be automatically entered into a prize draw for 4 Free Boxes of TestoFuel!
[Button]
Don't have any friends that lift? Not a problem, we hold regular competitions across our social media platforms too. Throw us a like or a follow on Facebook, Instagram and Twitter and we'll see what we can do for you.
It's time to join the winning team. It's time to use TestoFuel.