When it comes to boosting your testosterone, Zinc is 'the' mineral  you want to be getting enough of.
There's an estimated 2 billion people in the world with a zinc deficiency [1] – make sure you're not one of them!
Supplementing zinc offers your body, and your gains a whole host of benefits including:
Boosted Testosterone – Proven to raise T-Levels
More Fat Loss – Combats fat oxidation and reduces storage of it
Improved Energy Levels – Better digestion and absorption of food
Better Mood – Proven to help treat depression
It's also a great anti-oxidant that helps strengthen the immune system and fight against acne.
This mineral gives you nothing but benefits and it is your ticket to making more gains, far faster.
Zinc is used for the processes in the brain that create the luteinzing hormone – the hormone that helps create testosterone and growth hormone [2].
Without enough of this mineral in the bloodstream testosterone levels are depleted and it can even facilitate fat gain, with there being a proven link between a deficiency and obesity [3].
Why you should be supplementing Zinc
This mineral crops up a lot in your diet, however, whether you get enough of it is a totally different story.
Your best option for a food that is high in zinc are definitely oysters, which have are made up of around 78% of the stuff. However, not all of us have the money or the resources to dine on this delicacy every day so we have to look elsewhere
The next best option are red meats, like lamb or beef, however these only contain around a tenth of that amount – and this still doesn't help anybody on a vegetarian diet.
Lastly, you could try eating more seeds, nuts or spinach. However these contain even less of the mineral. For example 100g of spinach contains 0.8mg of zinc – You would need to eat almost 2kg of the stuff to get the recommended daily value!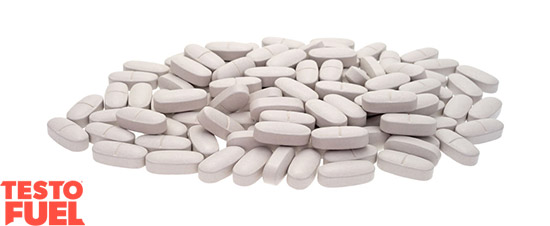 How Zinc Benefits You
As we've covered, one of the main reasons you want to be adding zinc to your stack is due to it's ability to boost testosterone levels [4] [5]. This helps towards your muscle gains, cut down on body fat [6], and even promotes energy levels.
Not only will making more gains make you happy, supplementing zinc can actually brighten your mood. Numerous studies have linked the nutrient to effectively treating depression and lowering feelings of aggression [7] [8] [9].
On top of all of this, there is evidence that zinc has been linked to cutting down you sick days with those who supplement the mineral having a naturally stronger immunity [10].
What you should do next
In TestoFuel we've done our part to give your gains the help they need, by providing each daily serving of TestoFuel with 10mg of the mineral.
In addition, we've also included 100mg of Oyster Extract, which not only contains a large amount of zinc, but it also includes a combination of various vitamins and amino acids to give you that extra lift.
References
[1] Prasad, 2012, A.S. Prasad, Discovery of human zinc deficiency: 50 years later, Journal of Trace Elements in Medicine and Biology, 26 (2) (2012), pp. 66–69
[2] Jalali GR, Roozbeh J, Mohammadzadeh A, Sharifian M, Sagheb MM, Hamidian Jahromi A, et al. Impact of oral zinc therapy on the level of sex hormones in male patients on hemodialysis. Ren Fail.2010;32(4):417–9. doi: 10.3109/08860221003706958.
[3] Costarelli L, Muti E, Malavolta M, Cipriano C, Giacconi R, Tesei S, Piacenza F, Pierpaoli S, Gasparini N, Faloia E, Tirabassi G, Boscaro M, Polito A, Mauro B, Maiani F, Raguzzini A, Marcellini F, Giuli C, Papa R, Emanuelli M, Lattanzio F, Mocchegiani E. Distinctive modulation of inflammatory and metabolic parameters in relation to zinc nutritional status in adult overweight/obese subjects. J Nutr Biochem.2010;21:432–437. doi: 10.1016/j.jnutbio.2009.02.001.
[4] Netter A, Hartoma R, Nahoul K. Effect of zinc administration on plasma testosterone, dihydrotestosterone, and sperm count. Arch Androl. 1981;7(1):69–73.
[5] Jalali GR, Roozbeh J, Mohammadzadeh A, Sharifian M, Sagheb MM, Hamidian Jahromi A, et al. Impact of oral zinc therapy on the level of sex hormones in male patients on hemodialysis. Ren Fail.2010;32(4):417–9. doi: 10.3109/08860221003706958.
[6] Hashemipour M, Kelishadi R, Shapouri J, Sarrafzadegan N, Amini M, Tavakoli N, Movahedian-Attar A, Mirmoghtadaee P, Poursafa P. Effect of zinc supplementation on insulin resistance and components of the metabolic syndrome in prepubertal obese children. Hormones. 2009;8(4):279–285. doi: 10.14310/horm.2002.1244.
[7] Sawada T., Yokoi K. Effect of zinc supplementation on mood states in young women: A pilot study.Eur. J. Clin. Nutr. 2010;64:331–333. doi: 10.1038/ejcn.2009.158.
[8] Siwek M, Dudek D, Paul IA, Sowa-Kucma M, Zieba A, Popik P, et al. Zinc supplementation augments efficacy of imipramine in treatment resistant patients: a double blind, placebo-controlled study. J Affect Disord. 2009;118(1-3):187–95. doi: 10.1016/j.jad.2009.02.014.
[9] Solati Z, Jazayeri S, Tehrani-Doost M. et al. Zinc monotherapy increases serum brain-derived neurotrophic factor (BDNF) levels and decreases depressive symptoms in overweight or obese subjects: A double-blind, randomized, placebo-controlled trial. Nutr Neurosci. 2014 doi: 10.1179/1476830513Y.0000000105
[10] Shankar AH, Prasad AS. Zinc and immune function: the biological basis of altered resistance to infection. Am J Clin Nutr1998; 68:447S–463S.